Guiding you to get the most out of your water.
What Are You Looking For?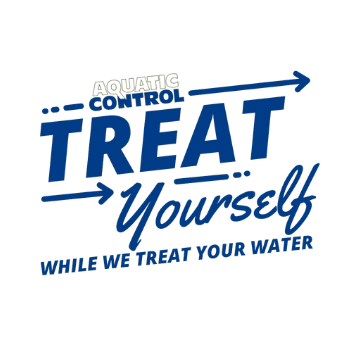 After becoming the fish and wildlife director for a small community on a 50 acre lake almost 3 years ago, I contacted Wes Goldsmith with Aquatic Control. They had just done a survey on the lake and sent me the results. The survey showed an imbalance in the ratio of bass to bluegill resulting in our bass being underweight for their size. Wes and I discussed a plan for stocking feeder fish, introducing more plants and structure, and harvesting smaller bass to change the ratio in order to produce a higher quality of bass in the lake. I am looking forward to having another survey done this fall to see how things have improved, but judging from the fish I caught this week, it looks like our plan worked.
We have a 50+ year old pond that had a green monster growing on top of it. The algae was really bad. We tried beating back the algae monster ourselves with copper sulfate but it just laughed at us. This past season we hired Aquatic Control. They have great employees and they did an amazing job. It wasn't easy and the algae kept trying to coming back, but so did their employees. They went above and beyond. We will keep using them.
I first contacted Aquatic Control about a severe vegetation overgrowth that I tried and failed to control myself. It was so bad, we couldn't use our body of water and it was right in our backyard reminding me everyday. Once Aquatic Control took over, things improved quickly and have not resurfaced due to their continued efforts! This spring things are looking beautiful and a neighbor caught a 9+lb bass which is a record for our lake!! Very thankful for their services!!
Aquatic Control worked with us to ultimately give us a pond that our lake association can enjoy in several different ways. The water quality is excellent for sport (fishing, kayaking and swimming) and aesthetics. Our pond has become an enhancement to our neighborhood thanks to Aquatic Control.
Aquatic Control has been Nothing but Good to me and taking care of my ponds!! Some of the Best in the business.
Aquatic Control and its team did a great job controlling our algae issues in our 380 acre lake. They were very responsive and knowledgeable of how to manage our specific issues with regard to algae control and management. Easy to schedule and work with. I would highly recommend their services.
Aquatic Control has provided exceptional service and support for our brand new pond that was completed in late 2020. To date, we have utilized their fish stocking program, purchased a feeder, and had our water quality monitored/treated. We also plan to install a diffuser in the near future. Our focus from the start has been to build and manage a beautiful and resourceful pond....which can be complicated and very scientific. For us, it has been more than worth it to use this company.
Patricia Thomas Duley
Illinois
We have used Aquatic Control since 2017 at two different homes, on two very different ponds/lakes. They inspect the pond/lake first. If a problem is found they suggest treatments that they are confident will work. Aquatic Control is always concerned about the health of the pond/lake and the aquatic life like fish, beneficial plants, frogs.... Thank goodness there is a company like Aquatic Control to provide this quality, needed service. I give them the highest ratings. On a five point scale they are at least a six!
We bought a property in early 2019 that has a retention pond that had been neglected for some time. About 50% of it was covered in algae and cat tails surrounded about 2/3 of the shoreline. We contacted Aquatic Control and signed up for one of their programs. Within about 45-60 days most of the algae was gone and the cat tails started disappearing that fall (they told us it would be fall before they would react). After 2 summers of treatments our water is clear and all of the cat tails are gone. We will continue to be a customer!